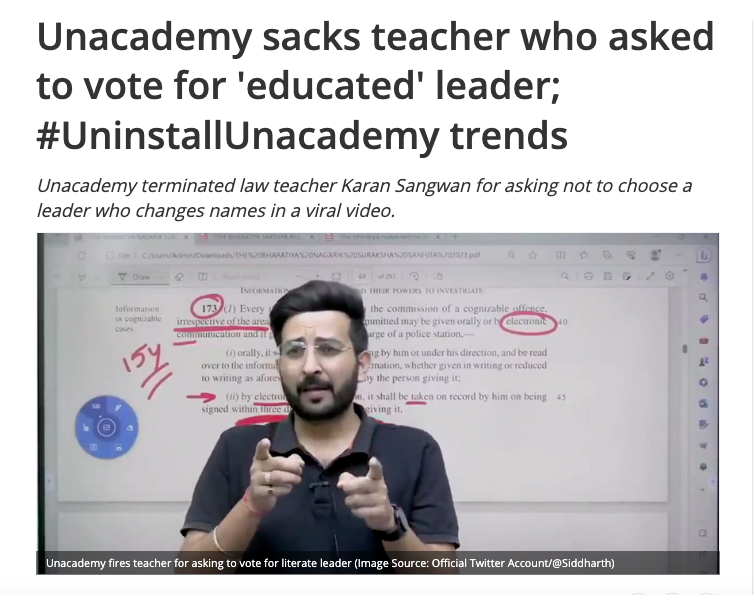 Table of Contents
Let us stop #UninstallUnacademy trend,
I'm not #UninstallUnacademy, even after the #UninstallUnacademy trend. Here are the reasons why I believe Unacademy is a valuable resource for students and why I urge Unacademy to reconsider its decision and reinstate the teacher who was saced.
In recent days, there has been a lot of controversy surrounding Unacademy, an edtech platform. The controversy stems from the fact that Unacademy sacked a teacher for asking his students to vote for an "educated" leader. Many people have taken to social media to express their anger and disappointment with Unacademy, using the hashtag #UninstallUnacademy.
We understand why some people are upset with Unacademy's decision. However, we do not believe that uninstalling Unacademy is the right thing to do. Here are a few reasons why:
Unacademy is a valuable resource for students. It offers a wide range of courses on a variety of topics, taught by experienced and qualified instructors.
Unacademy is affordable. It is much cheaper than taking a traditional classroom course.
Unacademy is convenient. Students can learn at their own pace and time.
Unacademy is accessible. It is available to students all over the world.
We believe that the benefits of Unacademy outweigh the negatives. We are not going to uninstall Unacademy, and encourage others not to do so either. Instead, we urge Unacademy to reconsider its decision and reinstate the teacher who was sacked.
We also believe that uninstalling Unacademy would be a mistake because it would send the wrong message. It would send the message that we are willing to silence people who have different opinions, even if those opinions are well-intentioned.
We believe that we should be able to have open and honest discussions about politics and education, even if we disagree. Unacademy is a platform that can facilitate these discussions, and don't want to see it silenced.
We hope that Unacademy will reconsider its decision and allow the teacher to return to his job. In the meantime, I will continue to use Unacademy and encourage others to do the same.